Partner with leading designers using sustainable MycoBoard™ and MycoFoam™

 

 
Green Island, New York, US –World leading biomaterials company Ecovative Design has launched a new line of wall tile solutions. Grown using mycelium, "nature's glue," these unique, high-performance, premium products are safe, healthy, and sustainable.
Marking an expansion of Ecovative Interior offerings; five new wall tile solutions were unveiled at the Ecovative Pavilion at Design Pavilion in celebration of NYCxDesign, May 7-11, 2016, in New York, New York.
 Ecovative has engaged with leading designers Harry Allen, Eric Pfeiffer, and Alyssa Coletti to use its unique MycoBoard™ and MycoFoam™ products to create interior acoustic tiles. Environmentally friendly coverings from Designtex, adhesives from e2e Materials, and finishes by Vermont Natural Coatings complete the designs.
 "Ecovative's distinguishing feature is the application of mushroom technology to manufacture high performing, rapidly renewable, award winning materials. These multifaceted , beautifully crafted Ecovative Interiors wall solutions reflect new partnerships that are maximizing the design potential of our unique Mushroom® Materials, bringing finished products for home and office directly to consumers," said Gavin McIntyre, co-founder and Chief Scientist, Ecovative Design.
Harry Allen, of Harry Allen Design, brings the Weave tile to Ecovative Interiors. To develop a new acoustic tile, Allen looked to one of the greatest sound deadening materials of all, woven fabric. His tile, a simple wave form, when assembled, creates a woven structure. Taking a cue from Ecovative's great environmental platform, Allen sought to create a completely sustainable product. He achieved his goal by pairing MycoBoard™ with a Cradle to Cradle™ Gold Certified fabric, Array, from Designtex. He considers Weave an homage to a craft he admires greatly.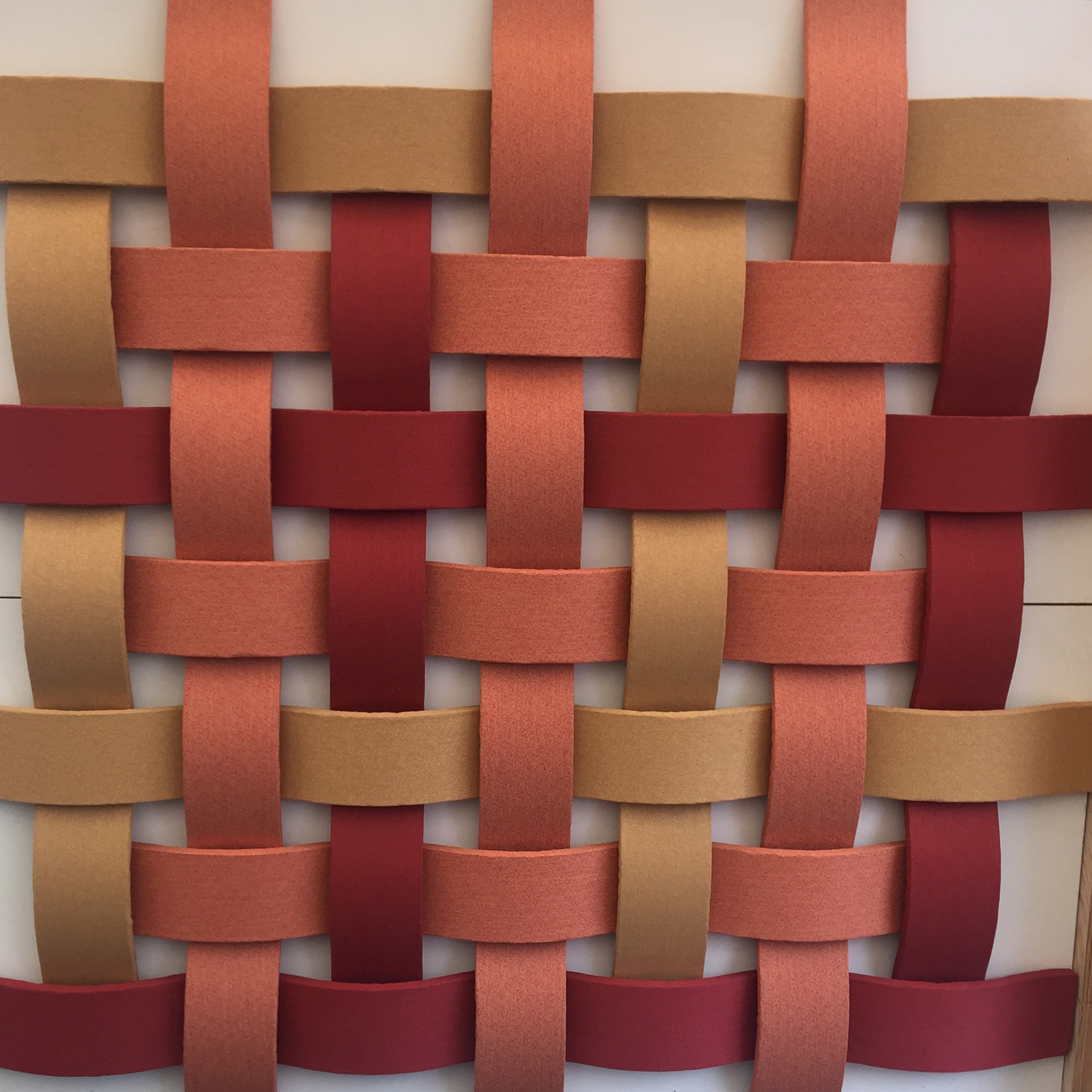 Weave by Harry Allen
The Dulles tile by Alyssa Coletti, of Nonfiction Creative, blends geometric and organic surfaces that come from the idea of a taut screen being pressed with a paddle. To channel architectural elements, grooves reminiscent of textured concrete were added to the flat surface to give additional texture and sound dampening properties. The name Dulles comes from the MycoBoard™ pressed shape's similarity to the bus terminal tunnels at the Eero Saarinen designed Dulles International Airport. Dulles has a whey-based, red list chemical free coating by Vermont Natural Coatings.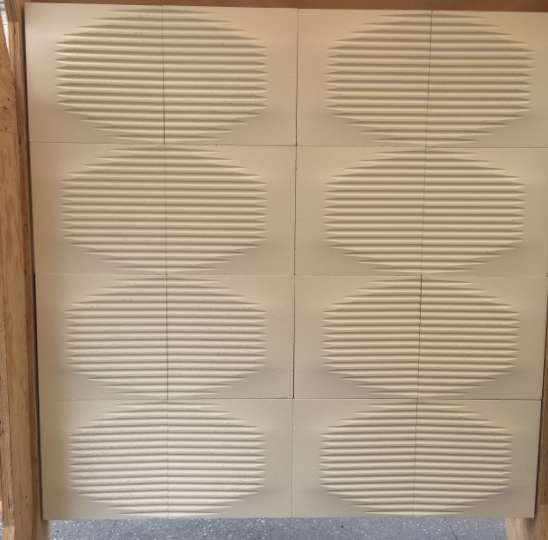 Dulles by Alyssa Coletti
The Wall Flower tiles, from Eric Pfeiffer, of Pfeiffer Lab, are independent acoustic units that can be arranged in numerous configurations, allowing for users to create their own compositions while helping mitigate acoustic challenges found in the modern workplace. Made using MycoBoard™, the pleasing circular shaped tiles are covered in Designtex's fabric, Pigment, to create a beautiful and environmentally friendly acoustic solution.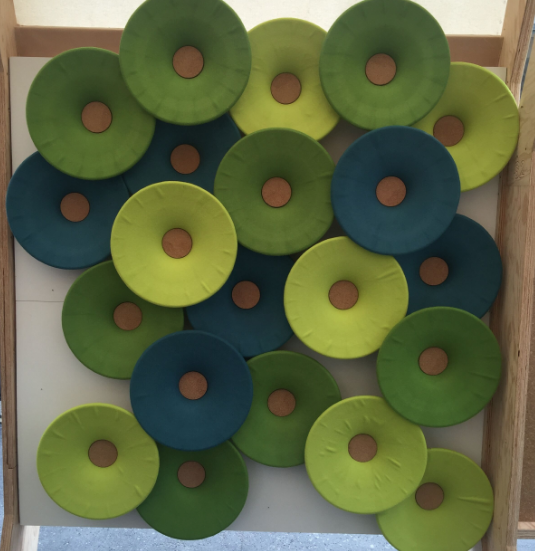 Wall Flower by Eric Pfeiffer
Jeff Betts of Ecovative saw a common pattern and recognized it as something he had to recreate in a MycoBoard™ wall tile: the Quarter Turn. The design is simple, with a subtle pop-out providing all of the geometry, but when the tiles are rotated and placed together, an infinite number of designs can be created that grow in complexity as the number of tiles increase. Quarter Turn provides a fun and interactive wall display, in which each customer can have their own unique display. Quarter Turn is covered with a whey-based coating from Vermont Natural Coatings.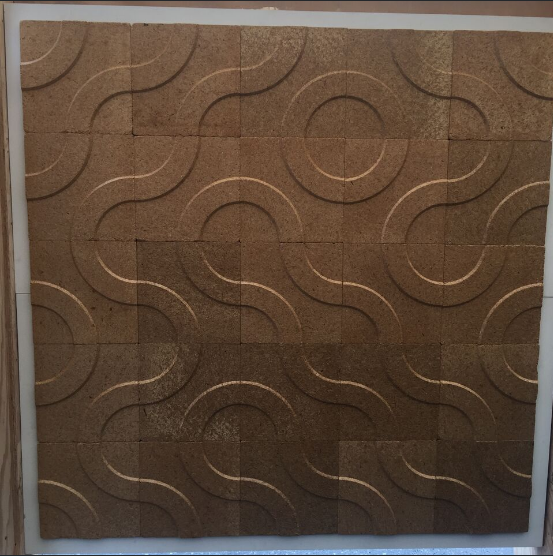 Quarter Turn by Jeff Betts
The inherent acoustic properties of MycoFoam™ make it an ideal material for Sinewave, by Ken Lush of Ecovative. At head level, Sinewave bounces sound up and down, while at floor and ceiling level it bounces sound left to right. Sinewave accomplishes this by overlaying the dominant wave with another identical but perpendicular wave. This second perpendicular wave becomes less prominent in the middle while becoming proud at the edges. This allows the tile to be flipped 90 degrees and retain its acoustic purpose while matching seamlessly with the surrounding tiles.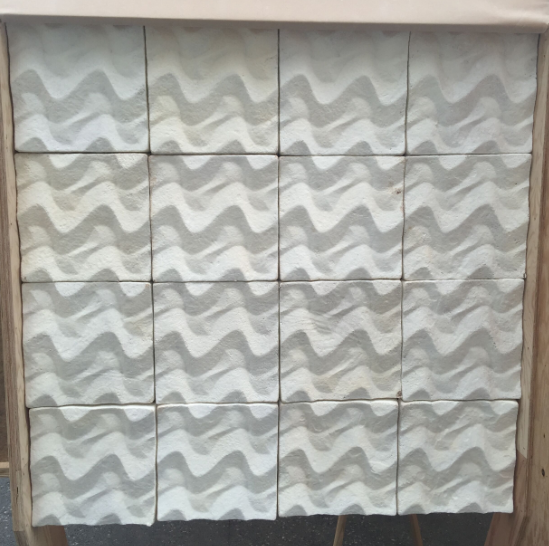 Sinewave by Ken Lush
"When I discovered Ecovative materials at Material ConneXion, it was clear Ecovative had a story worth telling. We are pleased to share their important developments with the world through Design Pavilion," said Ilene Shaw of Shaw & Co. Productions, creator and producer of Design Pavilion.
 Harry Allen of Harry Allen Design said: "I am completely inspired by Ecovative's materials. I approached the material with less fantasy and more practicality. Growing products with mushroom material is not only the future, it's very now!"
 Ecovative's Cradle to Cradle Gold™ Certified Mushroom® Materials meet the function and sustainability needs of the architecture and design community. For example, the marriage of MycoBoard™, a formaldehyde-free engineered wood, and Designtex's sustainable wool fabrics, represents a beautiful fusion of form and function.
 "We love the idea of growing products and designing for sustainability. These "grown" tiles are a perfect example of the great things that can happen when like-minded problem solvers come together. We are thrilled that Harry Allen has chosen our C2C Gold Certified textile, Array, and Eric Pfeiffer has chosen our EU Ecolabel certified Pigment as part of this exciting and intelligent product development," said Susan Lyons, President, Designtex.
 "Made possible by the infusion of the extraordinary creative energy of Ilene Shaw, Harry Allen, and other industry leaders into Ecovative's ecosystem; these featured product designs illustrate what is possible when there is a shared commitment to the idea: design drives change," said Jeff Betts, of Ecovative's Design Lab.
The Ecovative Pavilion at Design Pavilion in celebration of NYCxDesign, showcasing the new tiles, was designed by Harry Allen and Jeff Betts.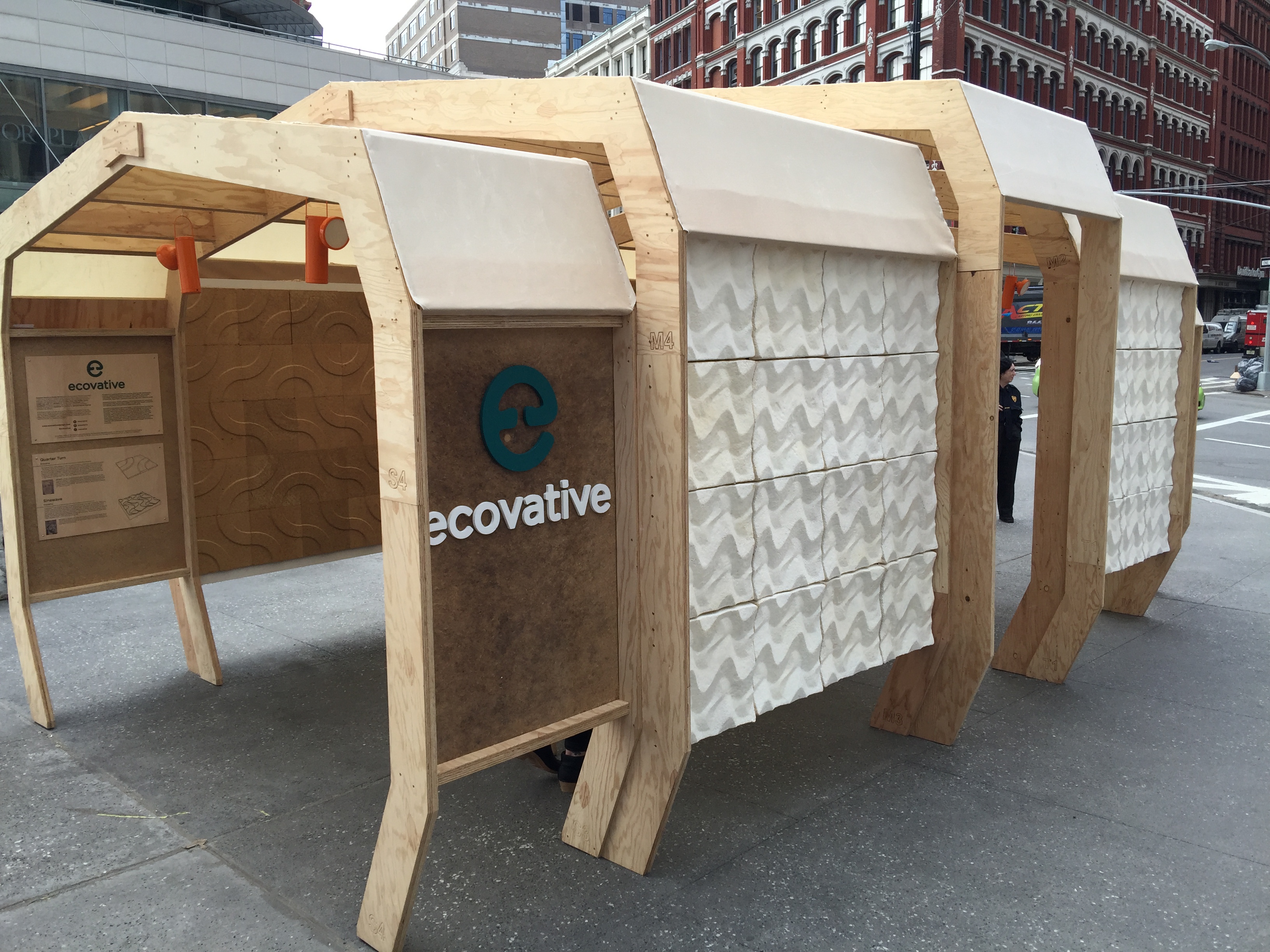 About Ecovative
Ecovative is a leading biomaterials company growing high performance, premium, award-winning products that are safe, healthy, and certified sustainable. Products include MycoBoard™ panels for furniture and construction, MycoFoam™ packaging materials, and other consumer goods in its Ecovative Interiors line. Ecovative products enable customers—including Fortune 500 companies, international mills, and furniture makers—to meet their design, production, and delivery needs while achieving sustainability goals. Founded in 2007, the pioneer and world leader in mycelium-based biomaterials uses biology to grow materials with exceptional properties unattainable through conventional chemistry.