Accent table Fully Grown From Mushroom® Materials and Microorganisms Introduced at Biofabricate 2016
Green Island, NY /November 17, 2016 – At first glance it appears to be an ordinary accent table: a beautifully designed three-legged wood-like base with a circular stone top. In fact, it is far from ordinary. The accent table is fully biofabricated: grown in just a few days using Mushroom® Materials, agriculture waste, and microorganisms. It is toxin free and sustainably manufactured.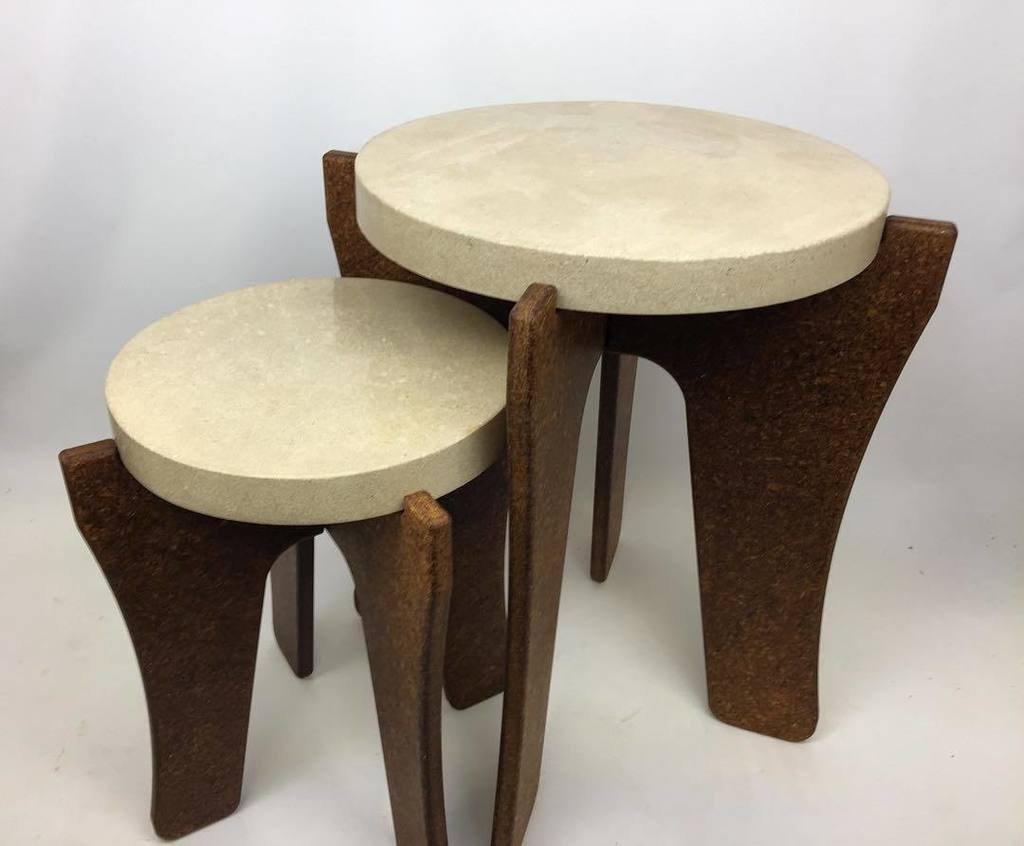 Unveiled at Biofabricate 2016, this accent table is the breakthrough product of a collaboration between Ecovative Design, the pioneer and world leader in the biofabrication of mycelium-based products, and bioMASON which employs natural microorganisms and chemical processes to manufacture biological cement-based masonry building materials. 
"With the launch of Ecovative's new furniture line and the addition of this collaborative table, we have shifted the conversation from 'what if" to 'where can I buy?' biofabricated products for the home and office," said Eben Bayer, co-founder and CEO of Ecovative. "Having produced more than a million pounds of biofabricated furniture and packaging this year alone, it is clear consumers and business customers are driving demand for these well designed, and earth friendly products."
"This collaboration has enabled bioMASON to think outside the rectangle, and seek further aesthetics for understanding more about the material's potential to make a beautiful, durable and smooth biocement that is pleasing to accent the everyday. Our core business is working with partners for volume manufacturing to make biocement available through multiple applications as they relate to exterior and interior materials. This collaborative product represents a way to own a piece of biobased materials, fully grown," said Ginger Krieg Dosier, CEO of bioMASON.
 Ecovative's products—furniture, packaging, wall tiles—are built around the company's pioneering idea that the mycelium of a mushroom can work as 'nature's glue' to bind agriculture waste and wood together. Customers of the upstate New York-based manufacturing company include Fortune 500 companies, small businesses, and boutique shops.
In October, Ecovative, expanded its offerings by launching a new line of first-of-its-kind, fully grown, mushroom-based furniture—including the Imperial Stool and Stack Stool. Ecovative's furniture is made from MycoBoard™ panels that are premium, customizable, and certified sustainable. Rather than being bound together using formaldehyde and other toxic resins, the panels are actually grown together using Ecovative's mResin™ adhesive system. Derived from the mycelium in mushrooms, this "nature's glue" is formaldehyde-free, safe, and healthy. The Imperial stool's leather-like seat's resiliency comes from MycoFlex™ cushions, a 100% mycelium foam, covered in Ecovative's entirely new Mushroom® Leather. The furniture is shipped with polystyrene-free MycoFoam™ packaging that is home compostable.
Industry and consumer use of Ecovative's formaldehyde-free products and processes may be accelerated as a result of the U.S. Environmental Protection Agency's (EPA) Federal regulations (announced July 2016) to reduce public exposure to toxic formaldehyde emissions from engineered wood. The new EPA rule specifically cited Ecovative's formula for biofabricating MycoBoard™ panels as an innovative alternative to the traditional manufacturing of particleboard and other composite wood products.
Editors of This Old House Magazine selected Ecovative's MycoBoard™ engineered wood panels as one of the "Top 100 Best New Home Products of the Year." Featured in the November/December 2016 issue, This Old House noted, "Most particleboard adhesives off-gas eye- and lung-irritating formaldehyde. These panels are held together with benign mushroom mycelium."
The Ecovative Interiors line, including the limited edition accent table, the Imperial Stool, the Stack Stool and other innovative mycelium-based products for the home and office, is available via: everythinghomegrown.com. MycoBoard™ panels also are available from Ecovative and via Trinity Innovations on the west coast.
"Ecovative's next step in realizing the full potential of this new mushroom-based technology requires rethinking and converting existing particle board mills. That is why we are partnering with mills across North America and Europe to test and pilot our mResin™ adhesive system," said Gavin McIntyre, co-founder and Chief Scientist.
Ecovative's innovative mycelium technology research and engineering has been supported by the Federal Small Business Innovation Research (SBIR) program, New York State, The Schmidt Family Foundation, the DOEN Foundation, the PostCode Lottery Green Challenge, and others.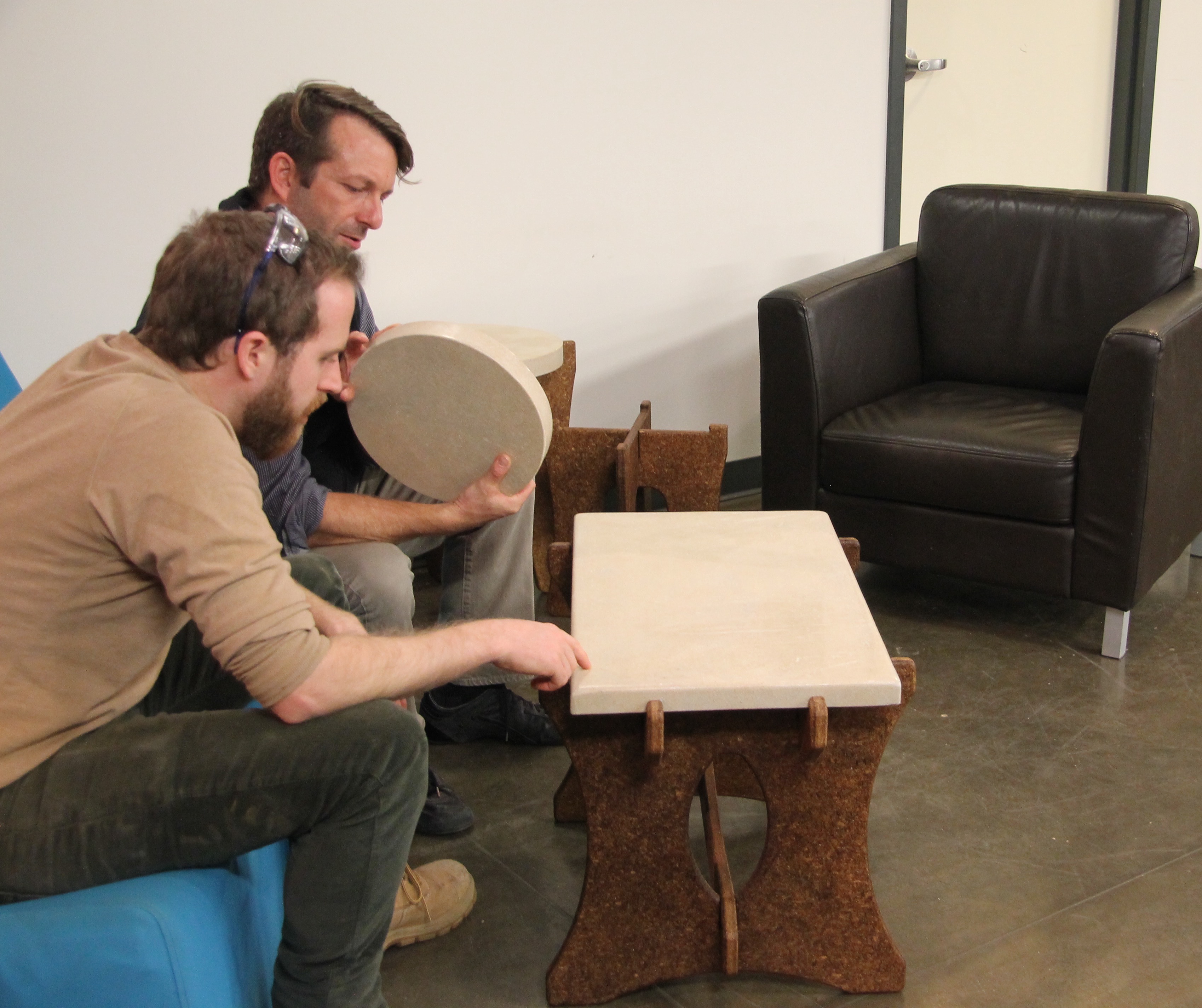 Ken Lush of Ecovative and Thomas Hill of bioMASON examine the accent tables in Ecovative's Green Island office
About Ecovative
Ecovative is a leading biomaterials company growing high performance, premium, award-winning products that are safe, healthy, and certified sustainable. Products include MycoBoard™ panels for furniture and construction, MycoFoam™ packaging materials, and other consumer goods in its biofabricated Ecovative Interiors line. Ecovative products enable customers—including Fortune 500 companies, international mills, and furniture makers—to meet their design, production, and delivery needs while achieving sustainability goals. Founded in 2007, the pioneer and world leader in mycelium-based biomaterials uses biology to grow materials with exceptional properties unattainable through conventional chemistry.
About bioMASON Inc.
bioMASON Inc. was founded in 2012 by architect, co-founder and CEO, Ginger Krieg Dosier. bioMASON is a unique biotechnology manufacturing company with a natural process that is revolutionizing the building and construction industry through enabling masonry and cement based materials to be grown in ambient temperatures, in less than 4 days. bioMASON employs natural microorganisms and chemical processes to manufacture biological cement-based masonry building materials. Models of distribution and manufacturing are licensed to new and existing masonry manufacturers utilizing local supply chains.
bioMASON's research and development has been supported by Acorn Innovestments, the Nation Science Foundation Federal Small Business Innovation Research [SBIR], Post Code Lottery Green Challenge, Cherokee McDonough Challenge, North Carolina Biotechnology Center, and others