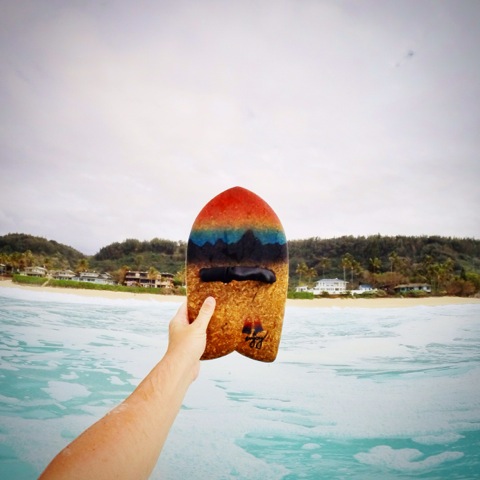 Sean Starky on the North Shore of Oahu testing the Ecovative Mushroom Board core coated with Entropy Dissolvable resin for an Enjoy Handplane, made for Patagonia.
As simple as letting a wave carry you to shore, bodysurfing could arguably be the first ever form of surfing. Despite its long history, bodysurfing has oftentimes taken a backseat to its more popular cousins, board surfing, skimboarding, and stand up paddle boarding over the years. But over the last few years, there has been an exciting and popular reemergence of bodysurfing. Building off of the roots of the sport, many of today's bodysurfers are now using small, paddle-sized boards called "handplanes" to gain speed and provide lift, merging the performance and thrills of a surfboard with the serenity of being physically in a wave. These handplanes, like most equipment used in watersports, are typically made from non-biodegradable and/or synthetic materials.
"A handplane is basically a gas pedal for bodysurfing" says Enjoy Handplanes Co-Founder, Ed Lewis. "If you've ever tried to bodysurf you'll know how hard it can be to gain speed. You spend a lot of time with your head face down in the water just trying to go somewhere. A handplane makes it easy because the more you push down the faster you go. The faster you go, the easier it is to keep your head above water and enjoy the ride."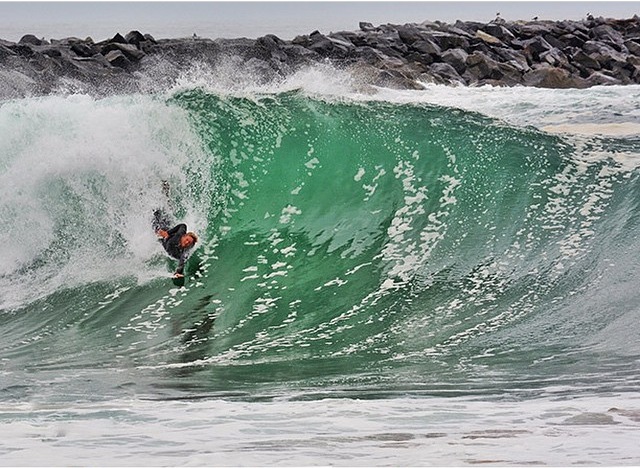 Sean Starky taking the product to the next level at The Wedge In California.
This specific "gas pedal" for bodysurfing, like an automobile part, took teams of engineers hours of testing, and over a year and a half to develop. It was the result of a five-company collaboration between New York-based Ecovative, San Diego-based Enjoy Handplanes, Hayward-based Entropy Resin and Connora Tech, and Ventura-based Patagonia.
Although this little product is built for speed, this handplane is also designed to be completely Earth compatible.
"The idea was not just to make a beach toy we love to use, but to make it in the most responsible way possible by using the most eco-friendly technologies to date." Said Lewis "My vision was to design a product using materials from the most cutting edge, ultra-eco companies in the world so at the end of the product's life, it didn't just become landfill, it would disappear. I figured if this works with a handplane, maybe it would work with other composite products as well."
This vision of Lewis' was actualized by teaming up with three ultra-eco material companies who specialize in end of life solutions and bio-based materials.
"When I came up with the idea of making a handplane with an end of life solution, the universe came in and delivered just the right people for the job. I got really lucky." Said Lewis "I'm a designer and handmade manufacturer, not a scientist or engineer, so I needed help. I'm a big believer in visualizing what you need and letting the rest fall into place. As soon as I started this project, Kevin Whilden from Sustainable Surf introduced me to an awesome material that Ecovative was working on."
Ecovative Design, located in Green Island NY, knows a thing or two about designing for end of life solutions. The company specializes in harnessing a unique part of mushrooms, called mycelium, and using it as a natural resin to replace products like plastic foam packaging. Their TEDtalk has almost a million views, and their R&D team has created everything from computer packaging and surfboards, to chair parts, and now handplanes. Their process uses agricultural waste and mushroom tissue to grow products that take the shape of whatever form the mixture is placed in.
Their newest material, Myco Board, is a high-density compressed board product that doesn't use any toxic chemicals or adhesives. "Myco Board is a natural alternative to engineered woods like particleboard and fiberboard," said Eben Bayer, Ecovative's CEO. "The standard materials are commonly made with urea-formaldehyde, a known carcinogen, and can be found in our furniture, our buildings, and even our leisure activities. Ecovative is working to replace these materials with our healthy and safe drop-in solution," states Bayer. All of Ecovative's products are home compostable and require little energy to produce.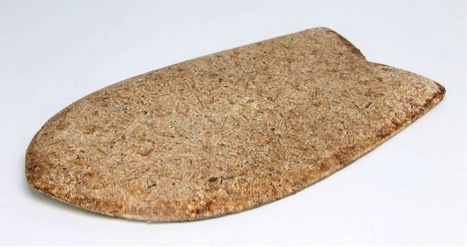 Ecovative's Myco Board core
"Ecovative's Myco Board was the perfect solution to develop the core of the handplane." said Lewis. "Since the glue they use is actually mushroom tissue, any unwanted core could be composted and returned to the soil. It took us over a year of prototyping different shapes and sizes to perfect the process of making the core, but it was well worth it."
Now that this little "gas pedal" had a bio-based and compostable core, there was a new problem at hand.
"Now that we had developed our core with Ecovative, we had a bigger fish to fry," said Lewis. "How do you protect a biodegradable material with a coating that is tough enough to make it last during use, but isn't going to defeat the goal of it disappearing at the end of its life? We determined we needed to figure out a way to remove the coating so the biodegradable core could be exposed to the elements to break down naturally. We tried everything we could think of, but nothing worked. It was either not durable, or not removable, or both. That is until we discovered dissolvable epoxy."
At the same time that Enjoy and Ecovative were working on the mushroom core in 2014, Entropy Resins, a leader is biobased thermoset plastics, and Connora Tech, a San Francisco Bay area startup, were busy with their own venture. The two were collaborating to develop the first ever epoxy that was as strong as a traditional epoxy, but that could be recycled. This was accomplished by creating an epoxy that can be dissolved and reclaimed by recycling the dissolved exposy into a heat injection moldable plastic (think: plastic bottles). It was the first of its kind, and revolutionary for the composites industry. This technology meant that anything put together with epoxy could be taken apart if needed, be it surfboards, cars, airplanes, or handplanes. The only hurdle was that it was still in the development stage when Lewis first heard of it.
 "I've worked closely with Entropy for over 4 years using their biobased epoxies, and really love what they do. When they told me that they had a new product in the works with Connora and we could now dissolve epoxy, my eyes lit up. I could see the solution for our handplane in front of me, and I couldn't believe the search was over for the perfect coating. Even though it wasn't market ready yet, I had to have it!"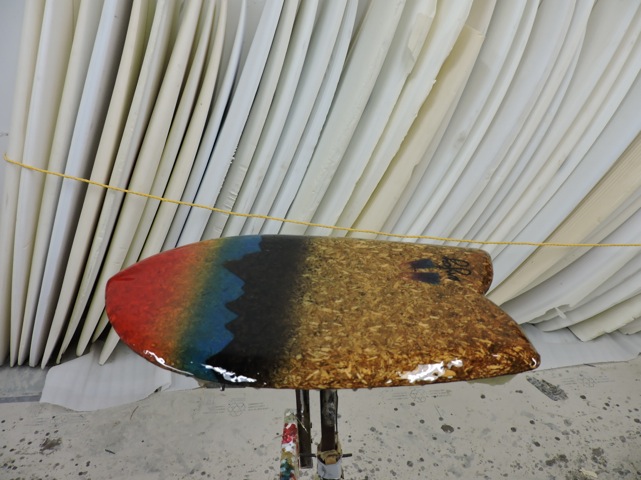 The first mushroom board handplane ever coated with dissolvable resin. Photo by John Brodie
Lewis' enthusiasm was what the Entropy and Connora teams needed to take the step forward to go to market. The development work was done, but they were waiting on funding to get it produced. The opportunity to collaborate with Ecovative, Enjoy, and Patagonia was too good to pass up, so they committed to providing the resin needed for the final product. 
"There is always an adoption curve when it comes to introducing new and disruptive technologies to a market place. Having early adopting customers is an essential part of demonstrating feasibility of new concepts and values," said Rey Banatao, CEO of Connora Technologies. "Most big companies are timid to try new and innovative things. Enjoy has always been one of those nimble leaders dealing with end-of-life materials and willing to innovate, so it made it easy to move our materials beyond the lab and into the market place."
The result of the collaboration, according to Lewis, was "Fun. The whole process was as fun as it gets. We got to work with amazing people, work with new materials, solve some environmental problems, and at the end of the day we get to go the beach. Does it get any better than that?"
But the effects of a product like this go beyond just a day at the beach. Yes, it's a fun product, but looking at the bigger picture, it represents a new sustainable business model. Conscious companies can design, produce, and market products that are strong, light, beautiful, and high performing, while accounting for the product's end of life story in the design process; a consideration that bodes well for the final member of the five-part collaboration, Patagonia.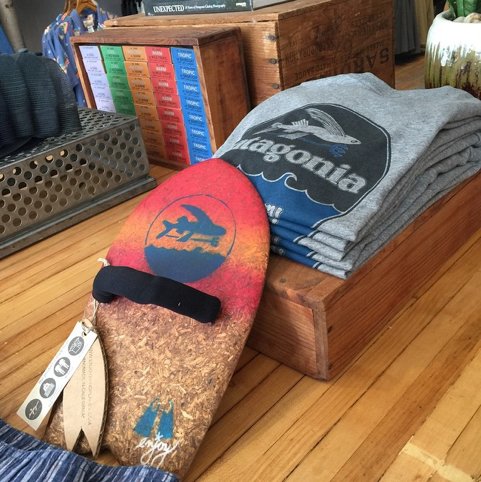 Beauty meets function in Patagonia Bowery. Photo by Jeff Betts
"Since our early days at Patagonia, we have been aware that doing any business on this planet creates pollution as a byproduct. And over the years, we have worked to steadily reduce those harms. It is really exciting for us to work with companies like Enjoy whose mission and business philosophy mirror our own," said Roy Coffman, Patagonia Cardiff Store Manager. "It has also been a great experience to be involved in sharing these products with our customers, and a total bonus that their eco-friendly handplanes are a total blast to use!"
This five-piece collaboration serves as a model for the future of better design and for the future of the environment. The idea that five diverse companies can come together with the same goal- to develop an environmentally responsible product, is inspiring. The future depends on individuals and companies making conscious choices about the materials they use, and if we can team up and accelerate these products to market, the future will be here sooner than we think.
To hear more from Ed about Enjoy Handplanes' sustainable vision and this collaboration, check out this video.