Q: What kind of art do you create?
A: I am a Toronto (& occasionally Iceland) based multidisciplinary artist. Born in San Francisco, California, I relocated to Canada in 2001. Working with metals, computer coding and animation since the mid-eighties, I was introduced to glass as an artistic medium in 2004. Through developing bodies of work incorporating metal, glass, and electronics, I've been awarded scholarships at The Corning Museum of Glass, Pilchuck Glass School and The Penland School of Crafts. Past work has been featured at SOFA New York, Culture Canada, Metalsmith Magazine, The Toronto Design Exchange, and the Memphis Metal Museum.
Most recently, I've been awarded artist residencies at Gullkistan Centre for Creativity, Nes artist residency Iceland, The Association of Icelandic Visual Artists and the Ayatana SciArt Research Program in Ottawa. In 2005 I founded the Maker space, nanopod: Hybrid Studio.
I am continually exploring materials and tools which is how I started collaborating artistically with Algae, Physarum polycephalum, and Mycelium, translating biodata from non-human organisms into music.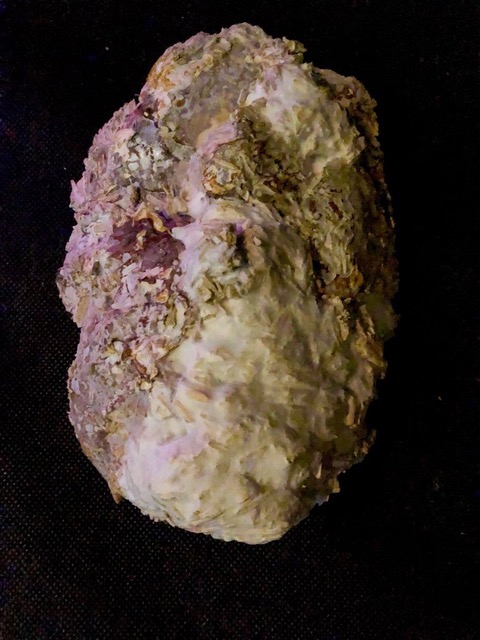 Photo: Mycelium mask was created from taking an alginate mould of a friend's face, vacuum forming that face once a plaster positive was made, to later fill the form with Flax Mycelium substrate. Mask was later desiccated.
Q: How did you start working with Mycelium?
A: It was a bit of a tangent. Through a workshop with doctoral candidate, Sarah Choukah I was introduced to Slime mould, aka Physarum polycephalum. Sarah implied that we all consider collaboration with the non-Human. What that means, how that might look.
At the time I was already researching algae, mosses, lichens and kelp from a 3 month artist residency I'd participated in in Skagaströnd, Iceland with scientists at BioPol towards the concept of renewable, sustainable sculpting materials, that might also be used towards bio/myco-remediation. I wanted to see if the Slime Mould would make music/sounds, which brought me to the Slime mould music Paloma Lopez and Leslie Garcia were experimenting with through bio-electrical activity translated into a sound process with the Energy Bending Lab and the Phytracker. So, I looked to construct my own form of Phytracker and listening to bio-electrical activity and came upon Bio-Sonification which led me to the Midi Sprout. The Midi Sprout translates biodata from plants into music.
I ordered Grow-It-Yourself mycelium material from Ecovative on February 24th, 2018. I started with the hemp and flax substrates. At first the flax didn't appear to be growing, while the hemp mix simply took off! After a couple weeks the Flax started growing and is still growing and fruiting! Also back in February I started printing up circuit boards towards my own capacitive sound sensors… which brought me back to the Phytracker and Midi Spout concept. For practical reasons, I have chosen to use an open source implementation of the Midi Sprout through the generous assistance of Manuel Domke over at 13-37.org.
Manuel is now offering open source, bio data to midi kits. To translate bio data to midi into analog Moog or digital instruments like, Mother32's, DFAM, Animoog, Model 15, Ableton, etc., I use an iConnect Midi1 as well as midi mergers.
The night I set electrodes onto the Mycelium was mind-blowing! I did not expect anything would happen and the Mycelium came through! I was so excited by what I was hearing I wanted to immediately share the Mycelium music with everyone- which sprouted the Midnight Mushroom Music podcast!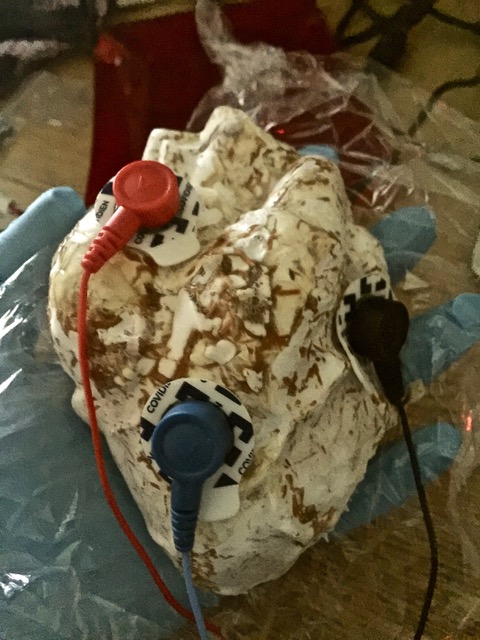 Photo: Anatomical Mycelium, vacuum formed anatomical heart with Mycelium growth- still growing today.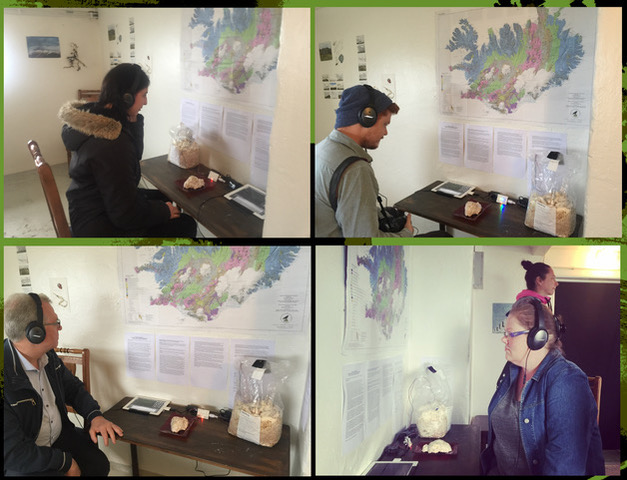 Photo: Small Mycelium bio-sonification installation at Bjarmanes in Skagaströnd Iceland for NES artist residency's 10 year Alumni Anniversary celebrations, 2018. Visitors sat with the Mycelium, which reacted to their Human presence in the room. The Mycelium's bio data was translated to midi and sent into the Animoog. The Animoog interprets the Mycelium's 'feelings' into music. The map displayed points where I travelled around Iceland with the Mycelium, setting electrodes on to it as well as numerous moss, lichen and seaweeds recording our musical collaborations.
Q: What do you like about working with Mycelium?
A: It smells nice. ;) I like that the Mycelium is a living organism and seemingly ok working with me and growing into various forms. Empirically, when fully connected and music is being generated, Mycelium seems to consistently generate periodic patterns that are both enigmatic but also very musical to my ear. Mycelium also seems to be particularly sensitive to the presence of people. For reasons that I do not fully understand, the Mycelium reacts to the proximity of some people more than others.
Video: Audio made from Mycelium bio-sonification. I set the parameters in Animoog, the Mycelium's bio data is translated to midi into the Animoog. Slime mould time-lapse sampled from Open Source archive and mushroom growth time-lapse sampled from Michael Pisano, put through Glitch Wizard and disrupted by the Mycelium bio-sonifications through Max/msp.
Q: What is your goal as an artist?
A: Global domination (joking!). I view my research as a collaborative effort with the non-Human entities I touch, caress, grow. Having 'minds' of their own, I could create a scenario, however, it is anybodies guess what direction(s) it might grow in (literally!). This is amazing to me with ample opportunities for a lot of discovery.
My fascination with what makes 'us' Human and the vast, incredible world of non-Human organisms along with the possibility of collaboration - I find thoroughly exciting! I believe every species has a language (if you will) of its own. Whether through body language/signals, eye movement, chemical, vibration or pattern, language is not always represented in word or through sounds the Human ear can perceive. My ultimate goal is to learn that other language.
Listen to Midnight Mushroom Music on:
iTunes: https://goo.gl/95PdBe
Soundcloud: https://soundcloud.com/nanotopia/sets/midnight-mushroom-music
Tosca would like to thank the Canada Arts Council for their generous support towards her research in renewable, bio-sculpting materials.

"Enriching the lives of Canadians by supporting a vital and diverse arts sector"
We acknowledge the support of the Canada Council for the Arts, which last year invested $153 million to bring the arts to Canadians throughout the country.

Nous remercions le Conseil des arts du Canada de son soutien. L'an dernier, le Conseil a investi 153 millions de dollars pour mettre de l'art dans la vie des Canadiennes et des Canadiens de tout le pays.